"Learn more about Dynamics 365 Business Central's new features and capabilities from 2022 release wave 2. This blog insight will help you explore about hot fixes, as well as regulatory feature updates for March 2023."
Formerly popular as Dynamics NAV or Navision, Microsoft Dynamics 365 Business Central is a new software-as-a-solution (SaaS) ERP leader in the market that offers various enterprise resource planning (ERP) offerings for small and medium-sized businesses (SMEs).
Its direct competitors are SAP Business One, Sage Intacct, Oracle NetSuite, and Odoo ERP.
Many businesses across a wide range of industries prefer using Dynamics 365 Business Central because of its powerful features and capabilities.
Let's know a bit about this all-in-one-cloud ERP solution from Microsoft.
What is Dynamics 365 Business Central?
If you want the power of Dynamics NAV to a cloud solution, Dynamics 365 Business Central is the answer you were waiting for.
Business Central was first announced as Dynamics 365 'Tenerife' back in 2017, and then got released as Dynamics 365 Business Central in Oct. 2018. Since then, the platform is continually being updated with new capabilities and compliance with new regulations such as GDPR and MTD (also popular as Making Tax Digital by the Govt. of the United Kingdom).
What is Update 21.4 for Dynamics 365 Business Central?
Microsoft releases timely updates for Microsoft Dynamics 365 Business Central products and is categorized as – new and planned updates.
Hence, walking in these footsteps, the 2023 update for Business Central has something for you, which includes hotfixes, feature changes, localization updates, a release plan for scheduled updates, and some "Good to know information" that you can utilize to take full advantage of your customized version of Business Central.
Let's uncover each hotfix one by one and bit by bit.
Hotfixes: These are the small codes that are used to quickly correct bugs or faults in Business Central.
To keep your business running smoothly, you must always keep your Business Central up to date with the latest updates.
Thus, to install the hotfix, you must update your customer license to access new objects released (or present in the previous update).
For the lists of updates, see: Related Updates for Microsoft Dynamics 365 Business Central 2022 Release Wave 2.
Note: Because of third-party products integrated with your system, it is not recommended to move forward in installing hotfixes or any updates without a trusted Microsoft Gold Partner like Dynamics Square. Microsoft Partners will help you identify whether your environment is compatible with the released updates or hotfixes. Contact me now!
Resolution to your Problems with this 21.4 Update for Business Central
The Following are the problems that Microsoft's development team has fixed:
1. Platform Hotfixes
2. Application Hotfixes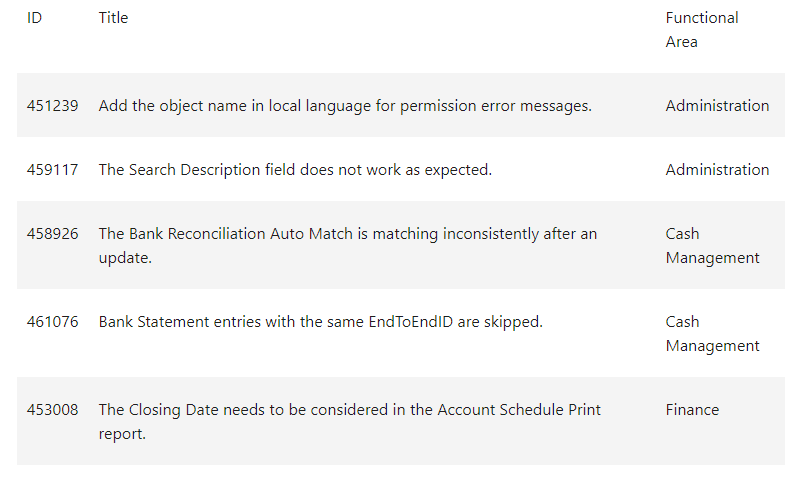 3. Local Application Hotfixes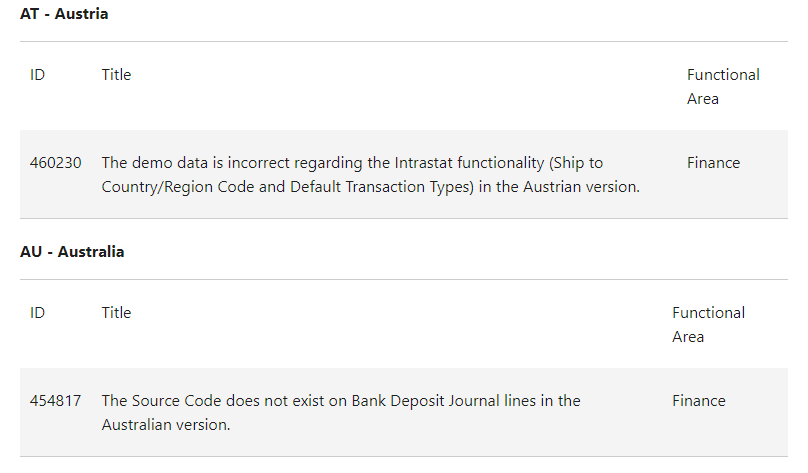 Note: Above are the screenshots of the full detailed description of update 21.4 for Dynamics 365 Business Central. To read or learn more, follow this link: Latest updates to Dynamics 365 Business Central.
How to get Started with the release wave 2 files for Dynamics 365 Business Central update 21.4?
To manually download files and begin installations, go to Microsoft Download Center, and follow the instructions.
Which hotfixes should you download?
Update 21.4 consists of multiple hotfix packages. So, select your hotfix package based on your country, and the 2022 database of your Microsoft Dynamics 365 Business Central.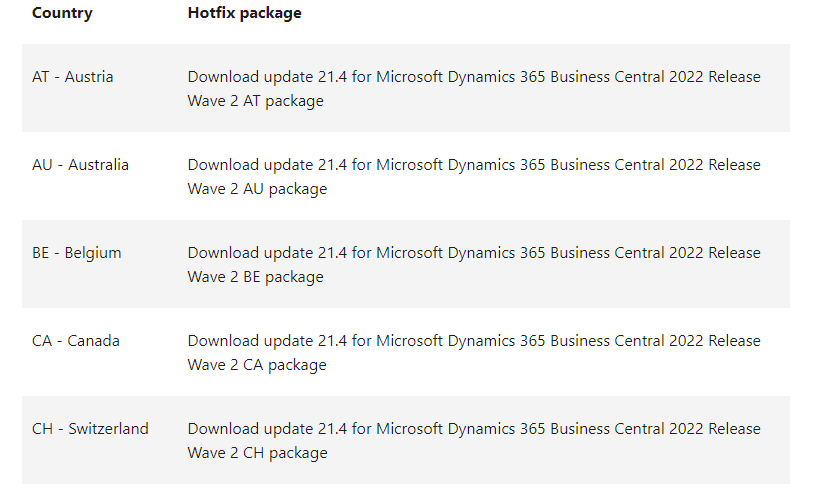 How to install the on-premises 2022 Release Wave 2 update for Business Central?
Prerequisites to begin with this update:
First, you must install D365 Business Central 2022 Release Wave 2 on your system. Then, begin applying the above-mentioned hotfix from update 21.4.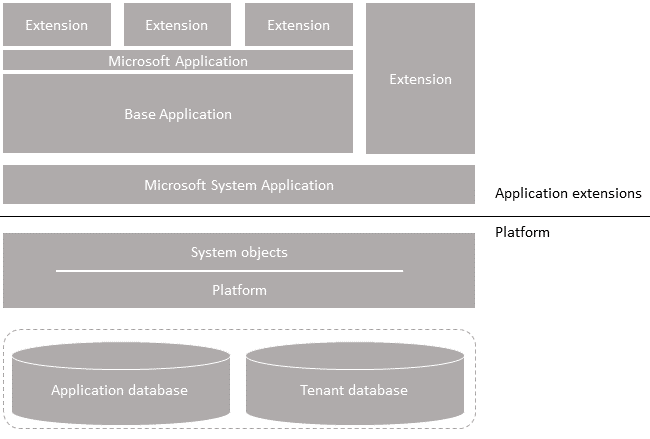 See: A simplified way to install Business Central 2022 Release Wave 2 update from Microsoft.
And if you want more help, do not hesitate to call, or email us.
We, at Dynamics Square are always eager to help you out with any problem you may have about the upgrade to your Business Central ERP or any Dynamics 365 product, such as Dynamics 365 Supply Chain Management, Dynamics 365 Finance, or D365 Sales, and Microsoft Power BI (Business Intelligence software).
You can also send your requirements to us if your looking for a trusted Microsoft Partner to upgrade your Dynamics NAV to Business Central. We have a suitable and affordable plan for you.
Get in touch today!
What is the Good to know information about the 21.4 update for Business Central?
To ensure that you keep your delegated admin access to your customers, make sure to regularly check our blog section and act before March 1, 2023.
Earlier this year, Microsoft Partner Center introduced Granular Delegated Administration Privileges (GDAP) as a replacement for Delegated Administration Privileges (DAP), offering more fine-grained access rights and time-bound partner-customer relationships.
"The deadline to migrate your current DAP relationships to GDAP has been extended to March 1, 2023."
Remember, if you do not act by this date, you will lose access to your customers' Business Central environments.
Thus, keep following us, and the Partner Center announcement page from Microsoft which is available at this link: Microsoft Partner Center Announcements