"Explore how this blog highlights the importance of migrating AX 2012 to Dynamics 365 Finance and Operations and provides step-by-step procedure for a successful upgrade."
Dynamics AX 2012 was replaced by Dynamics 365 Finance and Operations or D365 F&O in 2016, and then again in Oct. 2019 D365 F&O got split into Dynamics 365 Finance and Dynamics 365 Supply Chain Management.
Microsoft developers designed and developed AX 2012 to help businesses streamline their financial, human resources, supply chain, and other core business processes. This application can be integrated with other Microsoft products like Office 365 and Power BI. It has made this application a more comprehensive solution for businesses.
Why should you Migrate from Dynamics AX 2012 to Dynamics 365 F&O?
Migrating your precious business data to Dynamics 365 Finance and Operations from AX 2012 significantly reduces IT infrastructure costs (by 20%) and IT staff costs (by 15%) because of cloud deployment.
The enhanced functionality of D365 F&O minimizes errors and inventory carrying costs (by 30%) via better supply chain management. Forrester Consulting reports 112% ROI over three years with a 16-month payback period, providing cost savings and efficiency improvements.
Watch The Full Study Here:
Benefits of Moving from AX 2012 to Dynamics 365 Finance and Operations
1. Cloud-Based: Dynamics 365 Finance & Operations is a cloud-based solution, which means it can be accessed from anywhere with an internet connection. This app provides greater flexibility for employees who need to work remotely or from multiple locations.
2. Improved User Experience: The upgraded version of AX'12 software has a more modern and intuitive user interface. This makes it easier for people close to operations to navigate the finance system and find what they need in the blink of an eye.
3. Improved Functionality: D365 F&O offers improved functionality over Dynamics AX 2012. It has enhanced financial management capabilities based on data-driven insights, AI-powered supply chain management, and Power BI -driven analytics and reporting capabilities.
4. Regular Updates: D365 Finance and Operations users get updates, upgrades, and necessary support automatically via Microsoft Cloud. Meaning, businesses can get direct benefits of new features and functionality without going through any time-consuming and costly process of upgrading on-premises ERP solutions.
5. Better Data Security: D365 F&O offers the security features of Azure to protect against cyber threats. This includes advanced threat detection and prevention, as well as regular Microsoft security updates.
How does AX 2012 and Dynamics 365 Finance and Operations compare?
Let's see – Dynamics 365 Finance and Operations vs. AX 2012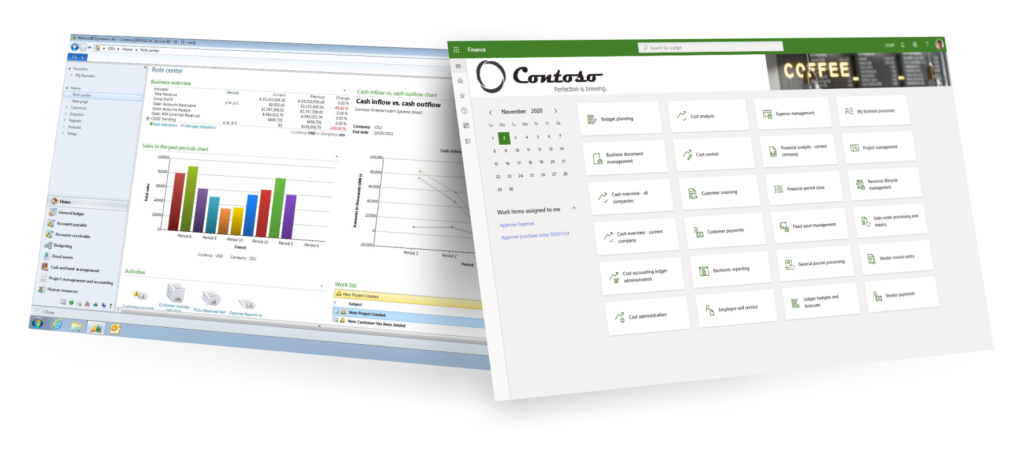 Dynamics AX and Dynamics 365 Finance and Operations (F&O) are both enterprise resource planning (ERP) solutions developed by Microsoft. However, there are several key differences between the two systems, which include:
Deployment: Dynamics AX is designed for on-premises, while Dynamics 365 F&O is for "on-the-go". That's because D365 F&O is a cloud-based finance ERP solution. Employees can access it from anywhere, anytime with an internet connection, whereas AX 2012 or later can only be accessed from within the organization's network.
Licensing & Pricing: AX 2012 is licensed via perpetual licenses, while Dynamics 365 F&O is a Pay-As-You-Go model. That means, with D365 F&O, businesses are bound to pay a monthly or annual fee. And with Dynamics AX'12, you buy perpetual licenses to use the software indefinitely (but with no surety on security updates and new features as the market evolves).
User Interface: D365 F&O is more modern and has an intuitive UI compared to AX'12. An easy to navigate UI makes it easier for anyone to navigate the system and quickly find the needed information.
Functionality: D365 Finance & Operations has improved functionality over AX 2012. For instance, this ERP comes with data-driven financial management tools, intelligent supply chain management capabilities, and AI-driven analytics and report-sharing features to avoid the wastage of time and money in less-enjoyable tasks.
Integration with Other Apps: D365 F&O offers excellent integration options with third-party apps and other Microsoft productivity apps, such as Power BI, Power Apps, and Office 365 apps like Word, Excel, Outlook, Microsoft Teams, and a Notion like tool, Microsoft Loops. This makes it easier for you to bring your teams, content, and tasks together to stay in sync and improve your business operations.
Security & Updates: Microsoft handles all your Dynamics 365 updates on a regular basis through Microsoft cloud and Azure Data Lake services. With Dynamics AX 2012, businesses need to manually install updates and upgrades.
Overall, Microsoft Dynamics 365 for Finance and Operations features offer many business-benefits over Microsoft Dynamics AX 2012. And it wouldn't be wrong to say, organizations that prefer on-premises business management solutions and perpetual licensing can still prefer Dynamics AX 2012.
What are the Steps of Migrating Data from AX 2012 to Dynamics 365 F&O?
It can be dauting at times to migrate your data from Dynamics AX 2012 to Finance and Operations. With careful planning and execution with a reliable Dynamics AX partner's help it can be a smooth transition.
Here's a step-by-step guide on how to migrate successfully:
Step – 1: Evaluate your current Dynamics AX 2012 Deployment needs
Before jumping right into Dynamics AX to migration process, it's important to evaluate your current Dynamics AX 2012 deployment. This includes ensuring a successful upgrade, and assessing potential issues, customizations, integrations, and third-party solutions before migrating.
Step – 2: Develop a Migration Plan
Create a migration plan with a timeline, needed resources, and potential risks. Always consider the impact on integrations and modifications since a comprehensive plan minimizes business operation's disruption while migrating your data.
Step – 3: Securely Backup your Data
It's recommended to back-up your financial data, including database, configuration files, and other valuable info before beginning the migration to avoid losing any business-critical data.
Step – 4: Install Finance and Operations
When data is backed-up, install the Finance and Operations application. Set up a unique environment and install necessary software to ensure the correct version aligning with Dynamics AX 2012. If required, get Microsoft AX Partner's help to avoid errors during installation and drop the possibility for issues later.
Step – 5: Migrate your AX 2012 Data
With this step, begin the AX'12 to Dynamics 365 Finance and Operations data migration. From transferring accounts and transactions to any relevant data critical to running your finance ops. Also, never forget to clean up and validate data for errors before migrating and going live. So, if needed, do check for data validation errors before going ahead.
Step – 6: Test your New Deployment
In this step, thoroughly test the new deployment, including customizations and integrations, and conduct end-to-end testing for system functionality. Get a Microsoft Dynamics 365 partner's help to involve end-users in testing and gather feedback to make further improvements.
Step – 7: Go Live and Train your users
In this last step, go live with the new system and train your employees to use the new Finance and Operations system with a comprehensive training plan. Talk to a Dynamics AX partner for materials and session outlines and ensure that every employee understands changes and new features. Plus, do not forget to continuously update training for these changes and new features in the new finance ERP system.

Note – 1: Upgrade only supported from Dynamics AX 2012 R2 or R3. Update to the latest cumulative update before upgrading to the latest Dynamics 365 Finance and Operations release. Contact your Dynamics AX Partner for any help.
Note – 2: If your Dynamics AX 2012 Implementation is using obsolete features, such as virtual companies or data partitions, upgrading may not be possible. You can use the upgrade analyzer tool to check if you're eligible for an upgrade. Don't hesitate to take advantage of the no-charge, no-obligation migration assessment offered through the Dynamics 365 Migration Program to kickstart your cloud migration journey.
Note – 3: Upgrading from Microsoft Dynamics AX 2012 is complex and requires effort, data clean-up, tuning, and customization. It is recommended to get professional help for a supported successful end-to-end on-premises erp upgrade solution.
What's crucial to Dynamics AX to Dynamics 365 F&O Upgrade code?
Upgrading AX 2012 to Finance and Operations can be a complex process if you select the wrong partner. So, choose the right Dynamics 365 Partner that helps you prepare your AX upgrade data for the worst-case scenarios. One crucial aspect of the upgrade process is ensuring that you meet the code upgrade requirements.
Here are the necessary actions that you need to take before beginning with the code upgrade:
Remove unnecessary models from your model store
Upload a fully compiled model store that is error-free
Note: Never make it someone else's task to apply the latest Quality update for the Dynamics 365 version before running the upgrade.
What are the main Steps to Data Upgrade process in Dynamics AX to Dynamics 365?
Here are the specific steps involved in the data upgrade process from Dynamics AX to Dynamics 365:
1. Access the first data upgrade service released by Microsoft in February 2018. Run this service first in the development environment rather than the Sandbox environment.
2. Back up the AX 2012 database using the standard Microsoft SQL Server process. This produces a BAK file.
3. Depending on how your developer environment is hosted, you may need to upload your backup to Azure storage for an Azure-hosted VM or transfer the file directly across the network for a local VM.
4. Download and restore the AX 2012 database next to the original databases. However, do not overwrite your current AXDB database while restoring the backup to Dynamics 365.
5. Download the latest binary updates from the shared asset library of Microsoft Dynamics Lifecycle Services to run the data upgrade deployable packages.
6. Keep a record of all the extensions that your ERP currently works on to ensure the proper functioning of your ERP and keep the data visibility required by your business.
Summary!
Migrating from Dynamics AX 2012 to Finance and Operations can be a complex process that requires careful planning, execution, and testing.
To ensure a successful migration, you should get support from your Microsoft Dynamics AX Partner to help you evaluate your current deployment, create a migration plan, securely back up your data, migrate it data to the new platform, test your new deployment, and train your users.
The migration process also involves reviewing your current customizations, integrations, and third-party solutions or add-ons (in any), and ensuring everything is compatible with D365 Finance and Operations.
Important: It is essential to work closely with your internal IT team and Microsoft Dynamics Partner to coordinate the success of the migration process.
Note: If you're looking for specific finance ERP software, you can choose Microsoft Dynamics 365 Finance for better financial visibility into your company's finances. Also, if you have a small to medium size business, you can go for an all-in-one ERP application – Business Central.