So, you ran out of moves, Googled, and landed here to discover which is the best accounting software for your business needs among Dynamics 365 Business Central and Intuit's QuickBooks. You are at the right place.
Selecting accounting software can be arduous at times. Because there are many options available, each with unique features and capabilities, and pricing plans.
Additionally, it can be difficult to decide which software best fits your specific needs and budget. It is also important to consider compatibility with your existing systems' scalability and ease of use.
Though it is recommended to do research and compare different options before deciding, consulting with a qualified accountant or bookkeeper or a cloud solution partner (CSP) like Dynamics Square can help make an informed decision.
Let's begin.
There are two of the most popular business management software on the market; Dynamics 365 Business Central and QuickBooks.
Both are cloud accounting solutions and are designed to help small or mid-sized businesses intelligently streamline their accounting and basic finance operations.
In this blog, we will take a closer look at both Business Central (BC) and QuickBooks, and compare them in terms of functionality, pricing, and overall suitability for your business and conclude – which is the right choice for you!
Microsoft Dynamics 365 Business Central and QuickBooks: An Overview
Business Central and QuickBooks are both accounting and financial management software, but they do differ in many ways. QuickBooks is more geared towards small businesses and self-employed people, while Dynamics 365 Business Central is a more advanced accounting solution for small or medium-sized businesses.
Business Central is the cloud ERP (Enterprise Resource Planning) software if you want to manage your inventory and supply chain, as well as projects and job costing at scale. Additionally, it has many Microsoft and third-party integration options with other business management software such as Salesforce, Outlook, Microsoft Teams, Sales Hub, Shopify, and more.
Moreover, you can customize Business Central to meet your specific business needs, anytime.
QuickBooks, on the other hand, is easier to use and has a lower learning curve compared to Microsoft's Business Central. However, it has fewer features and customization options when you compare it with Business Central.
Let us study them one by one.
Overview of Microsoft Dynamics 365 Business Central
First, let us look at Microsoft Dynamics 365 Business Central
Comparing Features and Benefits
QuickBooks is an accounting software designed for small businesses, while Dynamics 365 Business Central is a full-fledged enterprise resource planning (ERP) system that best suits large international groups.
Features of Dynamics 365 Business Central
Financial Management: BC has tools for managing financial transactions, including accounts payable, accounts receivable, and a general ledger.
Sales and Purchase Management: BC offers tools for smartly managing customer and vendor relationships, as well as sales and purchase orders.
Inventory Management: With Dynamics 365 Business Central your teams can easily track inventory levels, manage stock movements, and generate reports on inventory status.
Budgeting and Forecasting: You can forecast your budget to help businesses plan using Business Central's advanced analytics.
Reporting and Analytics: Dynamics 365 Business Central supplies a wide range of reports and analytics, including financial statements, sales reports, and inventory reports.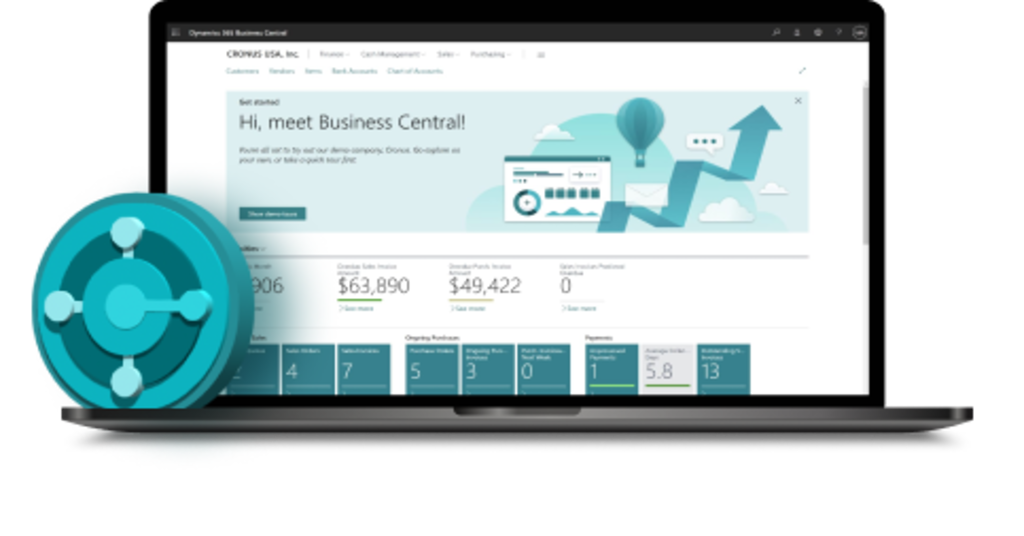 Benefits of Dynamics 365 Business Central
Scalability: Dynamics 365 Business Central is designed and developed for larger organizations and can handle more complex business processes and a larger volume of data.
You can easily integrate it with other systems, such as CRM (Customer Relationship Management), E-Commerce, and Warehouse Management.
Advanced Financial Management: Business Central has more advanced financial management tools than QuickBooks, including multi-currency support, automatic bank reconciliation, and advanced budgeting and forecasting capabilities.
Supply Chain and Project Management: With specific tools in Business Central for managing the entire supply chain, including inventory management, production planning, and project management you can take your business to the next level. These benefits are not available with QuickBooks.
Advanced Reporting and Analytics: Advanced reporting and analytics capabilities of Business Central allow you to gain deeper insights into financial (also known as financial visibility) and operational performance.
Customizability: Business Central is highly customizable, making it easy to adapt to specific or evolving business needs and workflows.
Accessibility: Dynamics 365 Business Central is available for cloud, On-premises, or as a hybrid (cloud + On-Premises) solution. You can access it from anywhere, at any time, if there is an internet connection. This allows for greater collaboration and flexibility for people working remotely to keep business continuity.
Pricing and Licensing Plans for Business Central
Business Central is available through a variety of pricing and licensing plans to meet the needs of different types and sizes of businesses.
The popular plans for Business Central are:
Business Central Essentials: Cost USD 70 Per-User/Month. This plan is designed for small businesses and includes financial management, sales and purchase management, and inventory management. At least 2 users are required to avail themselves of this license.
Business Central Premium: Cost USD 100 Per-User/Month. This plan is designed for mid-size businesses and includes all the features of Business Central Essentials, as well as additional advanced features such as supply chain management, project management, and advanced financial management. A minimum of 2 users are required.
Business Central Team Member: Starts at USD 8 Per-User/Month. This plan is designed for businesses that need access to Business Central for many users who only need to view data, not create, update or delete data.
Business Central Team Member Add-On: This is a plan that is designed to be added to Business Central Premium or Essentials plan and it allows the addition of additional team members to the plan.
Business Central (perpetual): This plan is for those who want to buy a perpetual license for Business Central. The perpetual license must be renewed annually to continue to receive updates and support from Microsoft.
Note: Dynamics 365 Business Central is also available as an app on Microsoft AppSource. You can start with a free trial for 30 days (about 4 and a half weeks) to see if it meets your needs. Contact your Dynamics 365 Partner or Microsoft partner like Dynamics Square for more details.
Strengths of Dynamics 365 Business Central
Low Cost of Ownership
Centralized Repository for your precious data
Combines ERP and CRM functionalities
Warehouse and supply chain management
The ability to be flexible
Business Central simplifies project management at the scale
It has seamless integrations with many add-ons and third-party solutions like Tasklet WMS for effortless warehouse management
Excellent data security and compliance
Overview of QuickBooks
This cloud solution is primarily focused on accounting and finance and is widely used by small businesses across the United States and other countries for tasks such as invoicing, tracking expenses, and preparing financial statements.
It is available in different versions, including QuickBooks Online and QuickBooks Desktop, and has a simple and easy-to-use interface.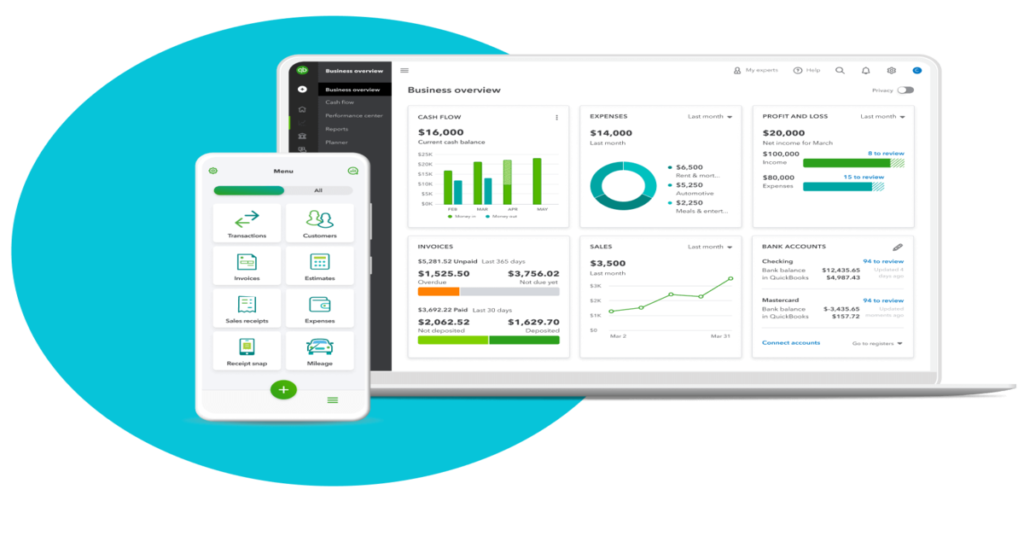 Comparing Features and Benefits
Dynamics 365 BC and QuickBooks are both financial management software, but they have some key differences in terms of features and benefits.
QuickBooks Features
Bookkeeping: General ledger, accounts payable and receivable, and bank management.
Invoicing and Payments: Creating and sending invoices, tracking payments, and accepting credit card payments.
Expense Tracking: Track and categorize expenses.
Reports: Built-in reports, financial statements, and the ability to export data to Excel.
QuickBooks Benefits
Intuitive and easy-to-use interface
Affordable and flexible pricing options
Integration with other apps such as PayPal and Square to allow escrow services
Available in multiple editions to suit the needs of diverse types of businesses
Pricing and Subscription Plans
In terms of pricing, QuickBooks is more affordable than Dynamics 365 BC, with cloud service subscription plans starting at $25 per month for QuickBooks Online.
Whereas Business Central's subscription plans start at $70 per user/month. However, it is worth noting that Dynamics 365 BC is a more powerful and versatile cloud ERP solution, which is more cost-effective.
It eventually is the right choice for businesses that need advanced resource planning features.
Follow this link for Business Central Pricing and Licensing
Strengths of Quick Books
User-friendly Interface: Simple and intuitive interface, making it easy for users to navigate all levels of technical expertise.
Customizable: QuickBooks allows users to customize financial reports, invoices, and other documents, making it easy to tailor the software to meet the specific needs of a business.
Automation: QuickBooks automates many of your accounting-associated tasks, such as generating invoices and tracking expenses – saving your teams a lot of time.
Integration: You can integrate QuickBooks with many other software, such as online payment processors, point-of-sale systems, and e-commerce platforms to help you manage all aspects of your business from one central location.
Scalable: QuickBooks is a cloud solution, and it grows with your business, with different versions and add-ons available to meet the needs of businesses – size does not matter.
Accessible: QuickBooks is available as both cloud and on-premises, allowing you to access financial data anytime, anywhere – using an internet connection.
Support: Since QuickBooks has a large user base and community, there is a wealth of online resources available – including tutorials, webinars, and an excellent support team.
Which Accounting Software is the best fit for your Business?
As a CRM consultant, I can confidently say that Dynamics 365 BC is a more robust and versatile solution than QuickBooks when it comes to customer relationship management (CRM).
Though both QuickBooks and Dynamics 365 Business Central are great options for small and mid-sized businesses, it depends on your business needs to go for one.
QuickBooks is a great choice for businesses that primarily need help with accounting and finance, while Dynamics 365 BC is a more comprehensive solution that's well-suited for businesses that need to manage multiple aspects of their operations.
One of the key advantages of Dynamics 365 BC over QuickBooks is its advanced CRM capabilities. The software includes a built-in CRM module that allows businesses to track and manage customer interactions, leads, and opportunities. This is an important feature for businesses that rely on sales and customer engagement.
Also, Business Central is flexible and scalable, making it a better fit for businesses that are looking to grow and evolve with time.
If you're not sure which one is the best fit for your business, it's a promising idea to speak with a Microsoft CRM/ERP Solution Consultant Partner like Dynamics Square for Dynamics 365 Business Central Implementation and its associated costs. The teams at these certified Microsoft Partners are experts who can help you with your specific needs and recommend the right solution for you.