Transform the Way You Operate Your Business
A more comprehensive and intelligent business management software, Dynamics 365 Business Central, can help small businesses streamline and smoothly manage finances, manufacturing, supply chain, and operational processes.
Microsoft Dynamics 365 Business Central: An Overview
Dynamics 365 Business Central is a part of the Microsoft Dynamics 365 suite of business management apps. That means users will be able to access the application directly from Office 365. One can also integrate it with Outlook, Teams, and the Power Platform to automate business processes in native and seamless ways.
The best part about the Business Central application is that it is fully cloud-based. There is no need to maintain a server at your premises. Factory managers, business operations managers, and administrators can access the Business Central via any web browser, or via PC, phone, or tablet-based apps available through various app stores. All that is required is to install the Business Central app, log into it, and start managing business ops.
If Office 365 is already implemented at your premises, then under the all apps section, they can find the Business Central Tile.
Note: You can access D365 Business Central only if the user has the license to use it.
How to start with D365 Business Central Demo?
To get started with the Business Central app, click the Business Central Tile in Office 365. It will open Business Central in a new tab. The landing page of Business Central is known as the Role Center.
Dynamics 365 Business Central is a Role-Based Application – one can assign a role to an employee. It will change how the page looks. For example, here in the below image, a user is logged in as a sales order processor as you can see it.
The navigation menu, the shortcuts, and the interactive tiles are all then get linked to the assigned role – sales order processor.
Easy Navigation in Business Central
Users can personalize the Business Central based on the role that has to be governed in the organization. For example, if one log in as an accountant, the look and feel of the home page will be set accordingly – the navigation menu will have finance and accounts management options in tile form.
When the role is assigned, the Business Central app needs a restart like what Windows users experience whenever there's a feature update.
A role changes the appearances and feels of the assigned page while permission can be very granular, allowing users to access specific parts of this business application. For instance, navigating the menu to open a specific option like clicking the name of the niche will take the user back to the world centre.
Using a full navigation suite and shortcuts (fully customizable) these options will take users to desired parts of the application. For example, Sales Managers can click on interactive tiles to check the number of purchases made and due in a particular period.
Key pages to focus on in Business Central
The intelligent search function called "Tell Me" in Business Central allows users to type a few keywords for reports and analysis. D365 Business Central does it by researching the results, sorting them on the current page, and providing buttons on the same page containing the searched keywords and allowing users to navigate to specific pages like running the specific reports using this highly interactive and modern business application.
Business Central displays a layered approach (a layer underneath a different layer) concerning different pages within the same browser session.
Roswell is familiar to all the users of Microsoft applications. It's the ribbon that indicates everything is fully customizable. So, under the cog gear, one can click the personalized action anywhere in the app to move columns around. Also, opening the field menu allows users to drag and drop fields within the application. Once done, just click on "Done," and the personalization is saved against the user.
So, if the same user opens Business Central in a different web browser on a different computer system, the saved personalization will be available in the new environment.
Moreover, Business Central is cloud-based and contained within a single browser session, it doesn't mean users cannot access and work in two places of business central at once.
With Business Central, one can pop out any window from any of its pages to a new window to perform actions. For example, on the customer's list, one can open the chart of accounts on a separate page.
Also, on any page, users can find the bookmark icon to control the bookmarks of a specific role in the role centre. Additionally, users can control these directly from the "Tell Me" tile. So, if users search a chart of accounts, they can observe that it is bookmarked and the bookmark icon is enabled. If ticked, the users' role centre is immediately updated. Likewise, people can also add the bookmark back again.
If we talk about opening any records, no business app can beat Business Central. In D365 business central, users can see that by hovering over any of the fields, allowing them to have some information about that field. Similarly, if a specific record is opened, hovering over any of the fields will provide the necessary information.
Integration of Business Central With other Microsoft Business Apps
When an app runs merely with its inbuilt capabilities, it has limited output. If the same software application has options to integrate it with other add-ons, its capabilities increase, and it turns out to be more productive. The same is with Microsoft Dynamics 365. Businesses can fully and seamlessly integrate D365 Business Central with other business apps such as Outlook, Teams, and Microsoft Office 365 for improved productivity. For example, if integrated with Outlook, from any email if the Business Central icon is clicked, it will open the app instantly.
Likewise, opening insights about the contact that's in the email will immediately connect to Business Central. And if a contact doesn't exist, Business Central allow users to add that contact in it directly from Outlook through a series of clicks.
Creating a brand-new sales quote has never been an easy process. With Business Central, salespeople can create specific and impactful sales quotes in a few steps and within Outlook. That's amazing, right?
Why not upgrade to Business Central from existing legacy systems? Download our free E-book and get started with Business Central's powerful capabilities.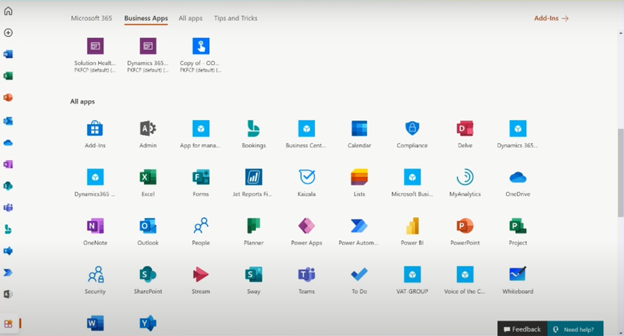 Once the quote and the customer record are ready, send them by email. One can see that it creates a draft of the same quote from the email which can be edited and sent back to Business Central.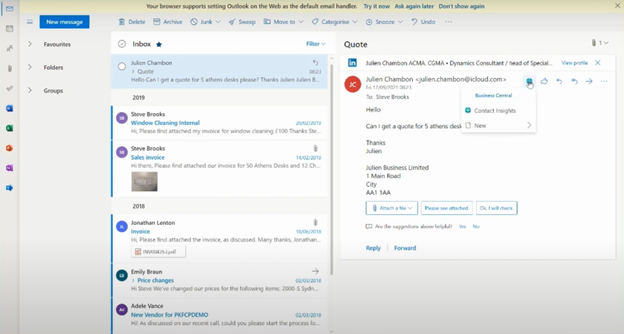 Users can also integrate Business Central in Microsoft Teams. With this, people in the organization can easily navigate and search for the Business Central in the Teams.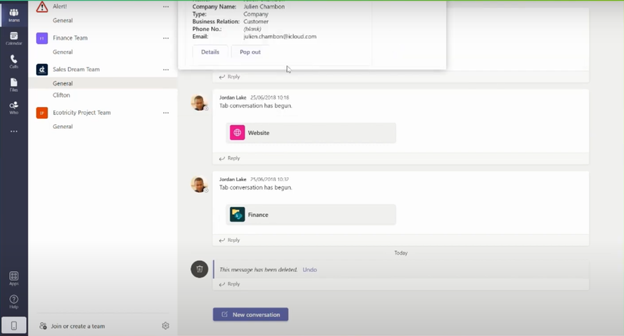 It helps them to search for contacts directly within teams view all the details and open a business central page directly within teams to be able to view or edit the details of that contact. Furthermore, users can also tag records in Business Central within the Teams.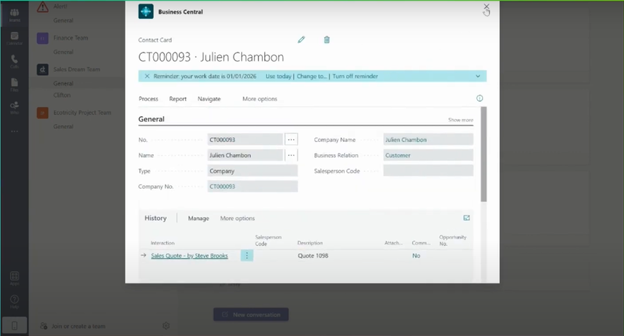 How to process a sales order in Business Central?
To get a feel for Business Central's working, let's see how it can process a sales order and manage documents within Business Central.
Click sales orders to create a brand-new record for any of your customers.
Add an item that you're selling.
Remember, you could be posting directly to the general ledger. So, think accordingly.
Now, you can see that within a few clicks, the sales order has been created.
It gives the ability to ship an invoice. An invoice is a specific record that shows that a sales order has been processed.
When a posted sales invoice has been created, send it by email directly from the Business Central application.
Business Central also has a fully customizable chart of accounts, which can be used as a report. This chart is fully interactive and can be filtered. Business Central also has a concept of "dimensions."
Dimensions are analysis codes. Creating dimensions is very simple. It is simply a matter of creating a new record and adding dimension values. These values can then be tagged into specific general ledger entries and other ones such as customer or purchase ledger entries. These entries can then be reviewed using a dimension value tag for analysis.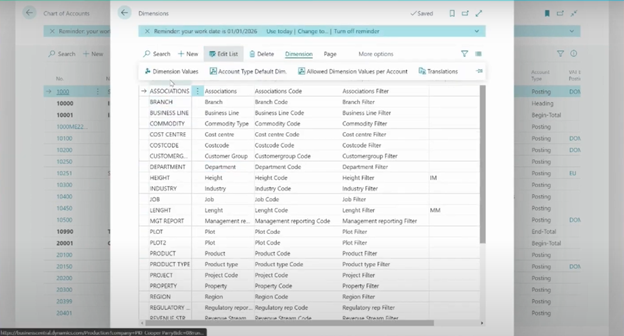 All those dimensions can be further analyzed through the G/L dimension overview. It will show general ledger entries with all the various dimensions as columns and values ready for analysis.
One can pop them into excel for analysis and pivoting directly within excel if needed.
Why Business Central is the best choice for your niche?
The foremost thing that makes Business Central the best fit for any organization is its cloud-based architecture, which allows businesses to operate from one solution. It also makes Business Central a cost-effective solution for your business at the same time.
Legacy systems like on-premises ERP software such as NAV are outdated and have no cloud functionality. If your business has outgrown them, Business Central is the logical choice. It enables businesses to get more insights into their business and make better decisions for rapid growth.
The core benefits that Business Central can bring your business are:
Improved productivity and robust Collaboration
As discussed earlier, the seamless integration of Business Central with other Business Apps from Microsoft 365 (earlier known as Office 365) allows businesses to handle business operations in time, provide excellent customer satisfaction, and increase collaboration among different teams in various departments.
Ability to Scale up your business
A low code tailored solution makes Business Central easy to operate and helps scale up your business as it grows. With Business Central's intelligent data analysis, businesses can keep costs down by reducing the number of licenses required to operate the business.
Improved decision-making to advance the business growth
Business Central is fully data-driven and makes use of AI (Artificial Intelligence). Businesses can obtain valuable insights against the collected data to find potential opportunities, trends, and where the business lack, enabling the business leaders to make the right decisions when the market takes different turns.
What's new and planned for Business Central?
Microsoft releases new updates compiled with advanced features based on user feedback every year. Microsoft named these updates release waves. Release wave 1 occurred in 2022 and ran from April to June and 2nd is on October 2022 . It delivered updates based on the most popular requests for Business Central's improvements.
The 2nd release wave will begin in September and run until November 2022. The 2nd release wave for Business Central is focused on enhancing reporting and several other improvements in finance and supply chain areas.
Below are the new features of Business Central that will help businesses effectively manage their processes:
Application
Microsoft is known for delivering technology to make people's lives easy by making digital products more user-friendly and efficient. Hence, the development of Business Central has been done by keeping people's ease in mind.
Country and Regional support
In release wave 2, more countries are added to make Business Central available. More than half of all countries worldwide are now on Business Central's list of available countries. It's a piece of good news for SMBs in developing countries.
Development
Microsoft has incorporated the AL language for the development of Business Central. Thus, it now has new productivity features for debugging and various ways of working with AL code.
Also, Microsoft is investing heavily in making Visual Studio Code the best environment for developers to develop business applications using the AL language.
Governance and Administration
The release wave 2 is going to be powered by a set of admin and governance capabilities. With these capabilities, IT pros and admins can better control the access to Dynamics 365 Business Central and monitor what actions users can perform.
Upcoming tools will help admins track changes, enforce compliance, and manage permissions more productively by setting up, securing, managing, governing, and monitoring customer environments.
Power Platform
The integration capability of D365 Business Central with other Microsoft business apps is a powerful way to help businesses automate their workflows, create custom apps, and build virtual agents to enhance customer experiences.
Power Automate, Power Apps, Power Virtual Agents, and Dataverse are some tools that utilize data to provide insights for making better decisions on time.
Additionally, users can integrate Business Central with Power BI to better visualize and analyze data.
User Onboarding
The onboarding experience increases if an app helps people run their businesses quickly and efficiently. Making it easy for users to get started with Business Central in a minimal amount of time is the key, and Microsoft has delivered it.
Focusing on connectivity to third-party operational productivity services is also Microsoft's priority.
Improved Productivity with Microsoft 365
Microsoft is set to deliver updates in the release wave 2 that will help different teams in companies to take advantage of collaborative experiences, tools, and insights. It will empower them with better work efficiency and output. Microsoft 365 is a platform that businesses can use to streamline their workflows so that it's easier to get work done and stay organized.
Reporting
The release wave 2 for Business Central focuses on using new dedicated APIs for better financial reporting, providing options to choose report layout in Excel on the request page, and running and sending reports from the request page itself.
Service and Platform
From SMBs (small or medium-sized businesses) to large enterprises, all require a dependable service and platform for reliability so that it's easy for them to run their business. From Business Central's release wave 2, users can get Power BI reports on telemetry, a faster data stack for better performance.
Enhanced User Experiences
Users will encounter better user experiences across desktop and mobile devices such as Phones, Tablets, and Laptops. These new user experiences include – new UI design elements and switch companies across environments.
In this Dynamics 365 Business Central Demo session, it is all one needs to know for the moment. Once a user gets more familiar with this app by opting for the Dynamics 365 Business Central Trial, they can explore and learn more about its abilities. And if you need help learning more about this awesome business app or implementing it on your premises, we're your Business Central partner in growth in the USA.
For more information and any support, please contact us at: Dynamics Square Microsoft Gold Partner .